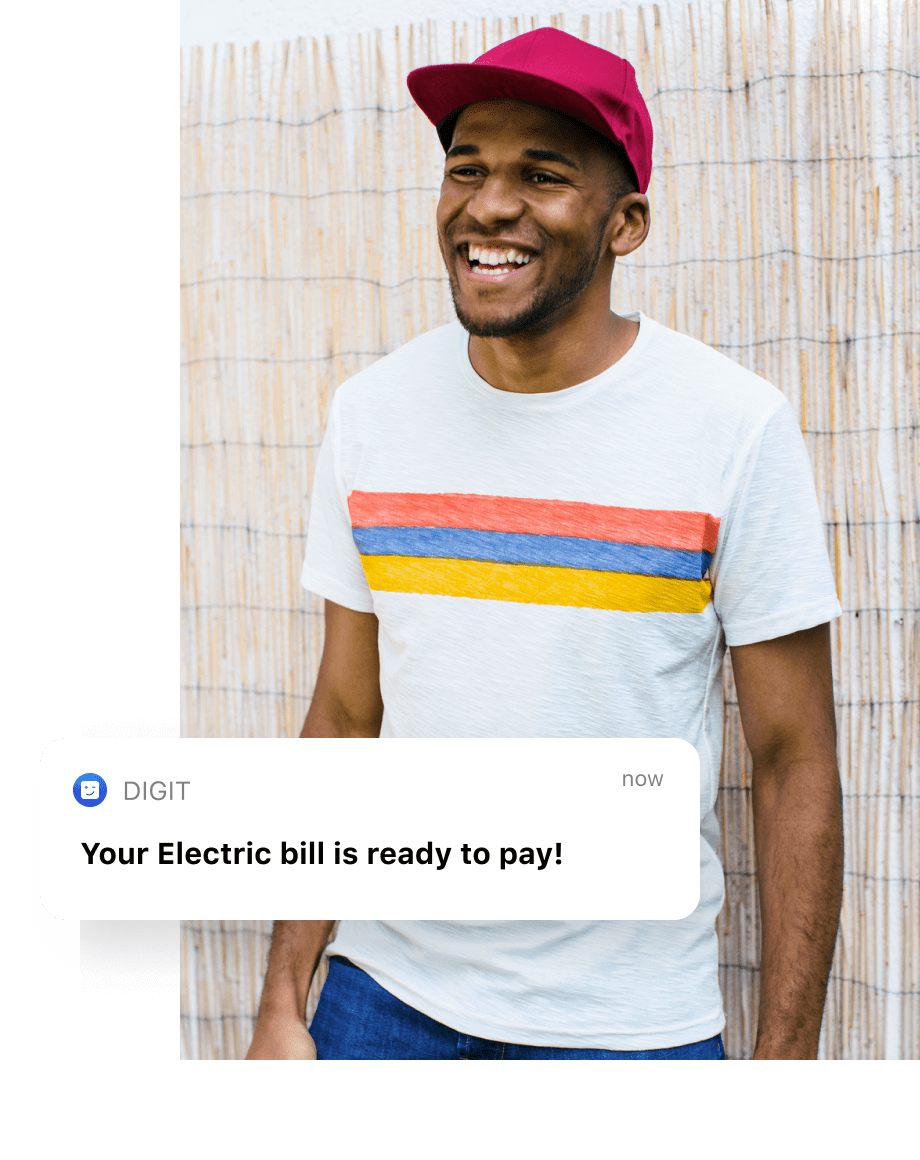 Out of sight, out of mind
A big part of financial health is staying out of debt. That's why we automatically move money you'll need for bills into a separate, dedicated account.
Link bills and credit cards
Add bills that happen every month (like rent or a car payment) or link credit cards and pay down your balance.
Budget with every deposit
Digit automatically moves money to your Bills account so expenses are squared away and ready to pay
Pay with your Bills account
Enter your Bills account details wherever you pay your bills to use the money Digit's budgeted for you.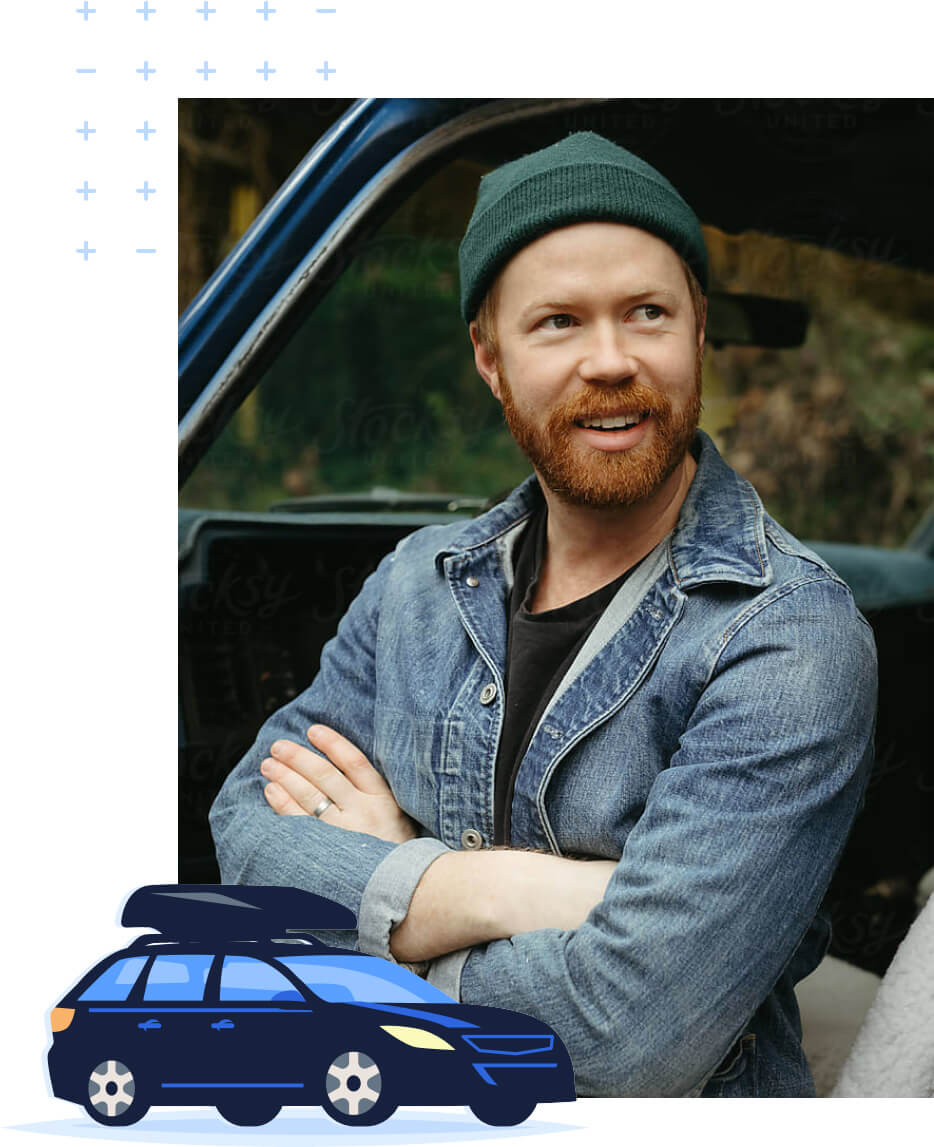 Keep up with car payments
Make car payments without hitting any speed bumps. Digit chips away at the cost all month, instead of budgeting all money at once.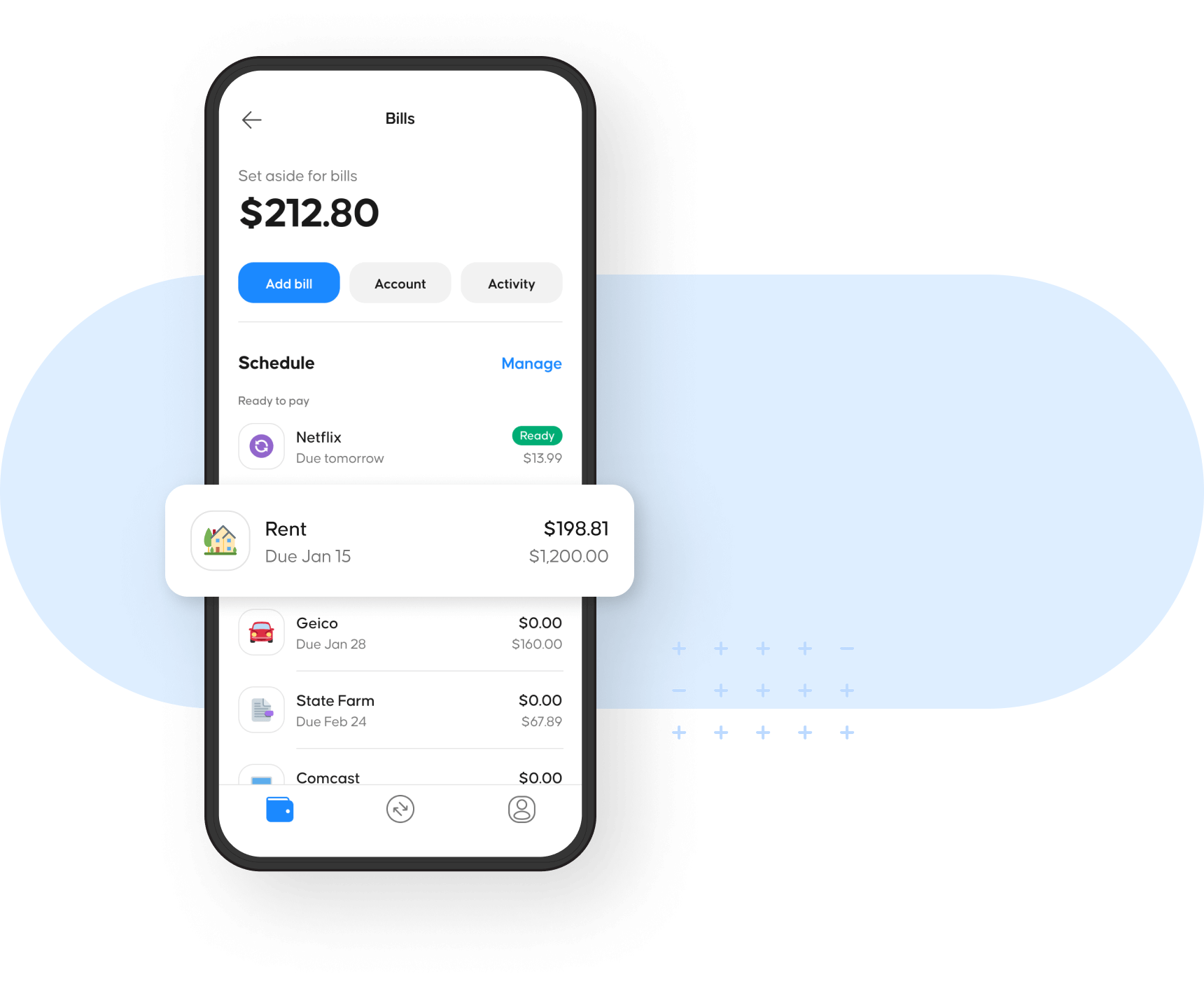 Budget for rent bit by bit
Digit budgets a little at a time, so your rent payment won't feel massive when it's time to send the check.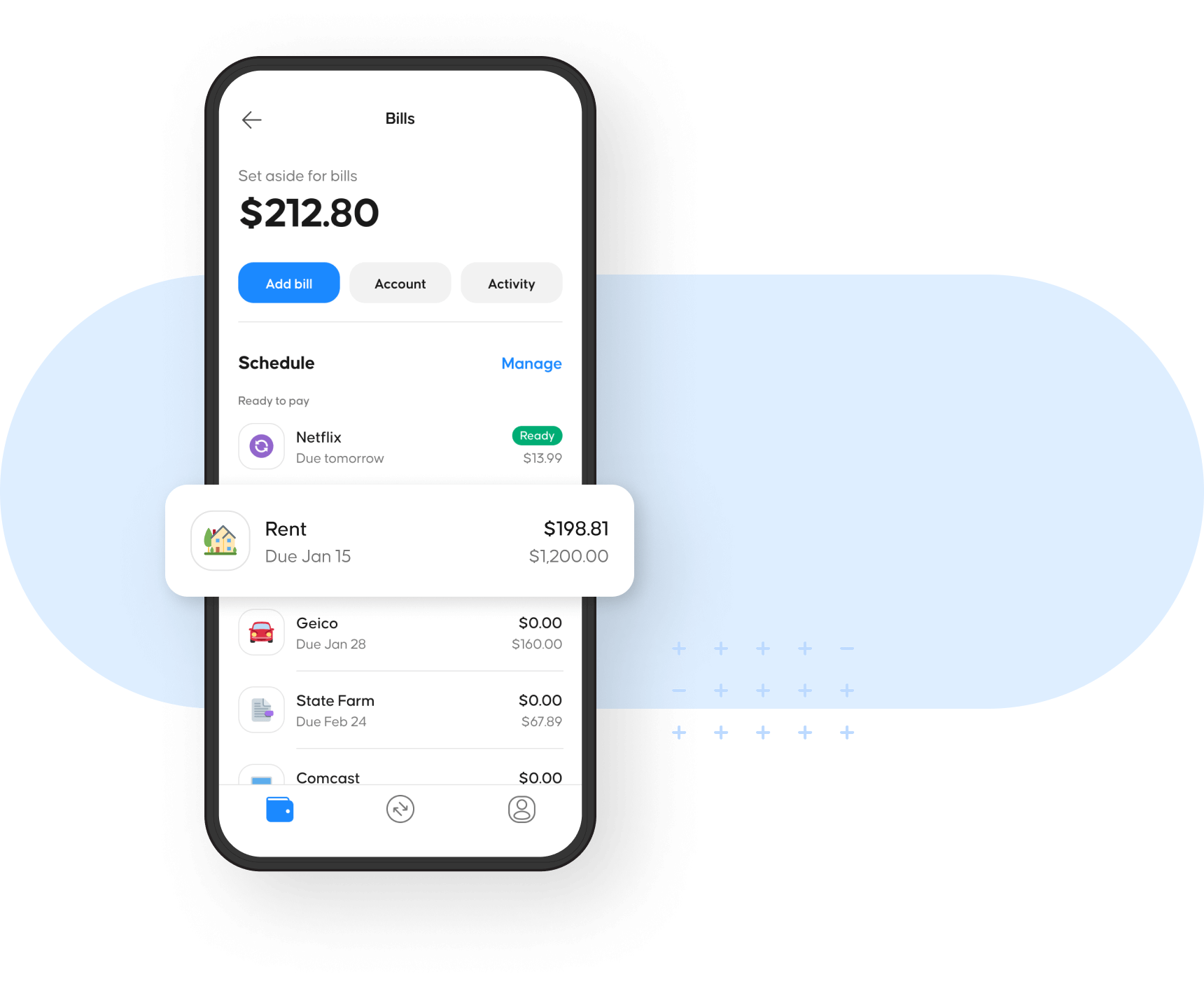 Save for your subscriptions
Streaming, delivery, storage — they all add up. Digit saves a little at a time, so the things you use daily don't cost you all at once.
There's a better way to budget
Hands-free budgeting

Skip the spreadsheets. Digit analyzes your upcoming expenses and sets aside money for bills so you're ready when they're due.

Stay ready to pay

Set it and forget it. Enter your Bills account info wherever you pay bills to use the money that Digit's budgeted for you.

Helpful notifications

We'll let you know when enough is set aside for a bill, when it's been paid, or if you need to update any info.

Link credit cards

If you prefer paying your bills with credit cards, it's all good. Link credit cards so Digit can budget for your minimum, statement, or total balance.

Fast transfers

Transfers between Spending, Bills, and Savings usually happen in seconds.

Scan for existing bills

Digit links with your bank and identifies bills that show up each month, so it's easy for Digit to start budgeting for you.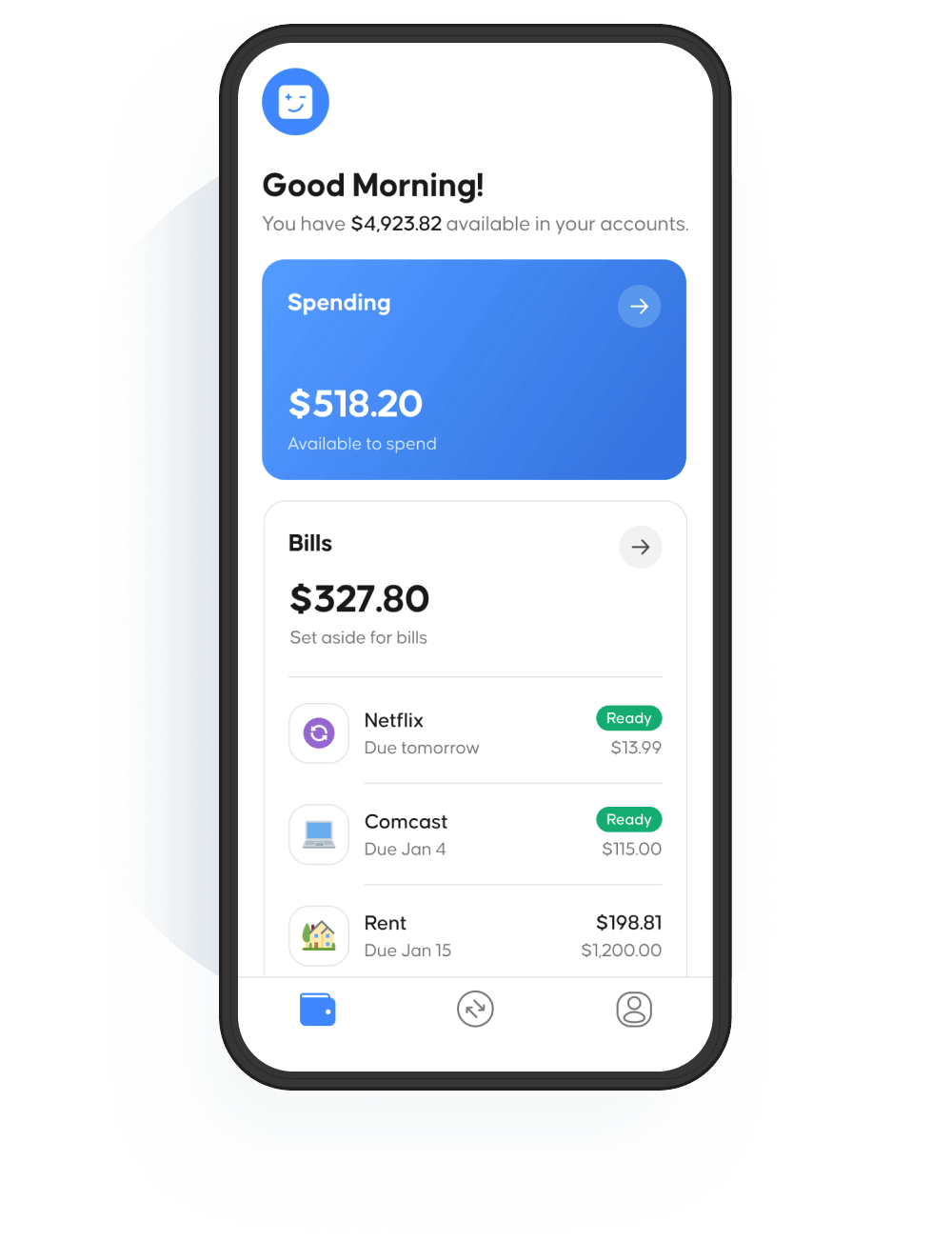 Try Digit for free
Get 6 months on us. Switch to the all-in-one app⁷ that intelligently banks, budgets, saves, and invests for $5/mo.
Did we cover everything?
Still have questions about bills? Here's a collection of our most common ones.
What sort of bills can Digit budget for

Anything you pay regularly, really. Some of the more common ones are credit cards, rent, subscriptions, gym memberships, internet, and insurance. Just let Digit know how much the bill is and when you need the money.

So Bills is separate from Spending?

You betcha. We've found that keeping money for bills separate from your spending money makes budgeting easier. Bills has its own account number so you can make payments with the money Digit has budgeted for you.

Where do I find my Bills account number?

We're so glad you asked. When you tap into your Bills account, you'll find a virtual card with your card number, expiration date, and verification code.
Read more FAQ's in our Help Center